Unspoken Reality of Adult Incontinence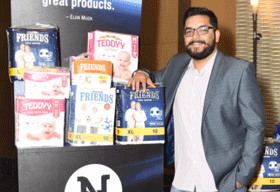 Headquartered in Mumbai, Nobel Hygien is one of India's fastest growing FMCG companies specializing in manufacturing an array of personal care products that include Diapers, Adult Diapers, Baby Diapers, Baby Pull up Pants for Babies & Adults, Baby Changing Mats, and many others.
Why talk about incontinence? About urine leakage, about potty problems,toilet troubles or susu setbacks? I can bet there's a slight blush to your cheeks already! Yet, to reinforce an old adage: the conversations you really need to be having are the ones which make you deeply uncomfortable. We now wallow in our comfort zones 24x7; please allow me to pull you out for two minutes.
Incontinence is an often unspoken, often unknown word that causes far more damage than anyone would give it credit for. Colloquially referred to as 'Urine Leakage',Urine Incontinence(ref.as UI) is what we call a, Keystone Issue, a single issue that leads down a path of further complications.
UI may be one of the most under diagnosed problems in our nation. Afflicting individuals aged 40 and up, affecting more women than men, it is often derided and ridiculed. Also, as women have access to disposable hygiene products (Eg: Sanitary Napkins, Panty Liners), there is a psychological nudge to dismiss the issue and use such products to cope.
As a problem, UI can occur due to various reasons. Some common problems are: Pregnancy and Childbirth, Prostate Disease, Cancer of the uterus, prostate or bladder; Diabetes Mellitus or regular age-deterioration.
India is soon to be the diabetes capital of the world, that hosts the most polluted cities and the largest population in the world, including the largest ageing population in the world. This will soon result in the highest volume of unreported
UI cases. This truly is, a disaster waiting to happen. There are numerous agendas that India must tackle on the healthcare front, UI being only one of them. Yet, this problem, along with many others, is being swept under the rug to be addressed at a later date.
By having a simple conversation with cherished seniors in your life, you can bring peace and balance to someone's life
And why should this be so? Why are we incapable of having a simple dialogue about a repressed issue? Most assuredly, your grand parents, or your parents, are likely suffering from this issue. Incontinence, being a 'bathroom problem' is rarely discussed at home. Seniors feel as though they have regressed, and this inability to control the most basic of bodily functions does a lot of psychological harm. The entire topic about UI is taboo. However, if your parent or grandparent is diagnosed with arthritis and the orthopaedic recommends a knee brace, no one will question that decision, correct? Similarly, technology has given us the means to resolve such a prevalent problem with relative ease.
However, instead of the solution being embraced, we are dealing with seniors whose health and condition continues to gradually erode, to the point where easy solutions are beyond us. Also, similar to a knee brace, repression of UI leads to a gradual shrinking of the locomotive range of an adult. Suddenly, every activity is appraised with an eye on the closest toilets. Seniors, due to the fear of wetting their clothes, start to avoid outings. UI then leads to further issues, such as lack of sleep and depression. A sedentary life style is also alarming, as it hastens biological degradation. Sometimes, the cause of UI is nothing more than age. You can compare the cause, to another common feature of ageing, wrinkles! To buffet and solve wrinkles, is a multi million dollar industry even in India. Yet, wrinkles are purely cosmetic in nature, and do not cause any bodily harm; very different from UI. Yet, UI is the issue which remains under wraps, with nary a celebrity endorsement or a large governmental publicity campaign.
The unspoken reality of Incontinence is this. And the problem will continue to escalate, under our very noses to the point where India will host over a hundred million individuals, all suffering from an issue which no one is discussing due to familial or societal shame. This alone, is a travesty. By having a simple conversation with cherished seniors in your life, you can bring peace and balance to some one's life. You will, and can reassure them, that having UI is not the end of the game. There still remain entire decades for seniors to enjoy, if only they can get over a minor issue and confront it, rather than letting it consume them.
However,they cannot do it alone.It falls up to all of us, to help them whenever and wherever possible. With the venerated position that seniors enjoy in our society, it is a shame that we do them such a huge disservice; we leave them incapable of being honest or open with us. Please, do them a favour, and have a word with them! Not about UI, but about anything. For them to remember, that we still are around, and we still care!