Secret Ingredients That Will Help You On Your Fitness Expedition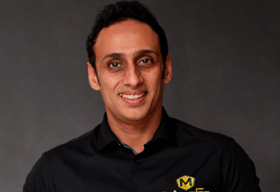 Headquartered in Pune, MultiFit Wellness is a premium functional fitness and wellness center offering an array of services such as Functional Training, Yoga, Looping, Weight Loss Programs, Muscle Gain Programs, MMA, Boxing, and Weight Training.
Ma's recipe always has some secret sauce that make the dish so special. Similarly, a successful businessman always has some secret mantras that are the cornerstone for all his accomplishments. Today, Dr Samir Kapoor (Founder of MultiFit, India's largest and fastest growing functional fitness studio) sheds light on some secret ingredients that people need to know about fitness. A lot of people are now adopting new approaches to fitness, however, a lot of them forget the basics delaying the process of strengthening their bodies.
Pre-workout Preparation
Sharpen your axe is the moral of a well-known fable which tries to highlight that preparation is half the battle won. Same applies to your daily workouts. Before starting your hard-core exercise regime, keep in mind these things that can help you make the most out of your workout!
1. Eat Right: Never workout on an empty stomach. Stock your stomach with either fruits or grains; both are great sources of carbohydrates. Adding high protein food also works as a good addition to the diet. This combo will keep you gain strength and make you give your hundred percent during the workout.
2. Keep yourself hydrated: Drinking enough water before workout is an essential thing to do. This can be done through fruit juices and coconut water as well. These fluids are great sources of electrolytes along with carbohydrates. However, also make sure to not over-drink. Good balance between too little and too much liquid should be maintained properly.
3. Warm-Up: Don't start your work out
immediately. It is imperative that you get started with some essential warming-up exercises that relaxes the muscles, allowing you to move around as opposed to having tight muscles, that restricts your movement. In addition to that, stretching and warming-up before workout prevents injuries and conditions like pulling and tearing muscles.
Rest has utmost importance in any training program, as your body recovers and gets stronger during rest periods.
During Workouts
1. Drink Up: Your body doesn't perform optimally when it is dehydrated. Dehydration restricts both physical and mental performance. Make sure, you take one to two sips whenever you break for rest.
2. Improve your Posture: Poor musculoskeletal alignment restricts the ability to activate certain muscles. Proper alignment is key for optimal muscle development. Moreover, it reduces chances of injuries. Pay close attention to your day to day improvements of not only your stamina but your posture. This tool works as an encouragement as well, doing something easily which seemed to be impossible just when you started.
3. Listen closely to your trainers: Take advantage of experts like nutritionists, movement specialists, physical therapists, dieticians etc. Experts could help you speed-up your progress and prevent you from going off-track with regards to your workouts.
Outside of your Fitness Regime
1. Set a Goal: One solid short-term goal will keep you motivated. Take the first step, be brave, be bold, keep moving forward to achieve your goal and more importantly stay focused. You will never know your limits unless you push yourself to achieve them. A goal gives a direction to your efforts. Compete with yourself, break your own records.
2. Consistency is the Key: Follow an exercise routine. Be consistent with it. It is better to be a turtle than to be a rabbit. Keep a track of your progress. Determine your weak areas and focus on them. Limit distractions which hold you back from achieving your set goal. Consistency is the key of workout success.
3. Rest and Exhale
If you don't recover properly, you won't make the gains. Your body recovers and gets stronger during rest periods. Rest has utmost importance in any training program. Rest too long loses workout intensity; rest too little burns you out too quickly. Both your muscles and nervous system need time to recover from a heavy workout. Failing to rest long enough hampers your consecutive workout performance.
Apart from the above mentioned, don't forget to add your own spices and customize your own recipe. Everyone has their eye on the target in their own individual way. Have fun and enjoy every single day of your workout. The adrenaline rush when you're close to achieving what you set out to accomplish cannot be expressed in mere words and results in a high you cannot buy.