Online Pharmacies Have Become Widely Accepted in the Last Two Years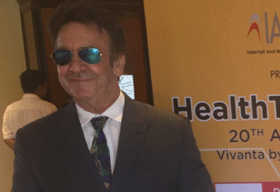 Headquartered in Bengaluru, Netmeds is one of India's leading online pharmacies offering a wide range of prescription-based medicines and other healthcare products across both rural and urban India, along with home delivery service.
Online pharmacies have become widely accepted in the last two years, not only by the consuming public, but by regulators as well, who some months back, released a first draft of rules that will govern them, and are working to finalize and enact them. In the meantime, then dominant players in the space continue to strive to improve their operations and especially where their various touch points become pain points. Currently, there are about a handful of recognizable and reliable brands in the 'epharma' space and since the industry is yet so nascent, the newly formed association of licensed online pharmacies provides occasional platforms for discussions that allow for sharing of general information that could benefit the industry as a whole and more importantly by increasing access, affordability and availability of important health maintenance drugs and thereby ensure the improvement of the public health and its safety. In one such exchange, one of the Country heads of one of the top five e-pharmacies shared a story about one of their customers who had contacted customer service. The communique was noteworthy for two reasons, the first of which being that it started off with high praise about the company and its customer service. In most companies, when lavish praise comes from a deeply grateful and satisfied customer, that message is almost always shared in the company's newsletter, as a sort of symbolic 'group high five' and often is even posted in Facebook, if the customer permits. But, what the country head observed, about this email, was that customer, who is a senior conservation official at a jungle park in Assam, notified us of a change of address. He was being relocated to a new conservation post, and wanted us to be sure to note his new address, which is very close to his old address and still about a 6.5 hour drive from Guwahati. He went on to point out what a virtual 'lifesaver' the concept of online pharmacy was, since prior to its inception, he, like millions of non-metro and rural village dwellers were forced to travel great distances to access the medicine they needed to maintain their health. It In his case, he was faced with a 13 hour round trip, in order to find a reasonably well stocked pharmacy, and even then faced 'stock-out' issues, and certainly would expect to pay full MRP. He expressed his gratitude for and approval of this new paradigm, which is likely to have very positive and far-reaching effects on the healthcare picture throughout the country.
The well-established legitimate online pharmacies have brought modern and affordable medicine within the reach of these rural populations. For those living in metros, accessibility to medicine seldoms crosses one's mind, since there are likely to be many choices of traditional brick and mortar pharmacy, but there is far less accessibility outside these areas. Furthermore, when it comes to eliminating 'stock-outs' and achieving high 'high fill rates', two overlapping protocols, it is understandable that the vast number of SKUs that a typical centralized regional fulfilment center, will house about 35,000 stock keeping units (SKUs), nearly 10 times the size of the average 'metro' brick-and-mortar retail pharmacy inventory; a 2nd and 3rd tier pharmacy may have even less SKUs, due to both restriction of space and limitation of demand. Additionally, there inherent economic advantages to having immense purchasing power, these can result in passed-on savings to the consumer. The majority of the big players in the online pharma space are now delivering pan-Indian, and could be fulfilling, on an aggregate basis, many thousands of orders a day, giving them a buying advantage. Being able to buy at better rates from manufacturers and master stockists allows these firms to pass on greater discounts to their customers without surrendering margin.
The well established legitimate online pharmacies have brought modern and affordable medicine within the reach of these rural populations
Of course, along with great price, consumers in every ecom vertical have come to expect, in fact, to demand great service as well. That means quick, dependable delivery to virtually every corner of a vast country, with as many varied terrains as dialects, and as the customers are quick to point out, 'this is n't like buying a mobile phone online, this is MEDICINE! Keenly aware of that fact, most companies have strived to reduce delivery intervals by intelligently selecting the best courier for a particular PIN code. For example, at Netmeds, where I work in Customer Service we have developed a two-fold technique for selecting the courier, the first part of which is an algorithm which has learned from lakhs of deliveries to more than 12,000 PINs, who are the most dependable, and the quickest in a particular PIN. As we have all come to know the last mile management is the most critical part of the delivery chain and a company, Blue Dart for example may be the absolute best for a Dimapur delivery, but may not be the courier chosen by the algorithm for a delivery to Kanyakumari, even though the serve both areas. Learning's may dictate that there is a better courier choice there and assign the delivery accordingly. A further learning in this space also allows the customer to suggest a courier, since they will usually know best from previous ecom experiences who he can best count to deliver his orders in a timely fashion
These are just a few of the learning's that are being used to develop and deploy new strategies for even greater customer satisfaction in a space that is at once nascent and yet poised to experience exponential growth in the coming years. As the industry matures, its various leaders have agreed to take a collaborative approach toward sharing insights and learning's all to the ultimate benefit of the industry and the consuming public.
Certain 'heavy-lifting' exercises have already been agreed upon, such as participation in a nationwide database where all prescriptions received by all online pharmacies will be digitized and stored. This is a move that is so forward-thinking, that even the U.S. is just now embarking upon creation of such a database, and manufacturers, regulators and pharmacies alike all agree that have digitized prescriptions that is filled with drugs that can be matched with a certifiable batch number, is one of the best securities against counterfeits and expired drugs entering the supply chain.
These are just a few of the strides being made, by an emerging industry, whose leadership appears to be dedicated to the prospect, that even in the deep jungles of Assam, a forest conservation officer posted 6.5 hours from the nearest city and needing prescription medicine, will continue to enjoy the new found accessibility, availability and affordability that online pharmacies are providing.