Medways Cardiac Clinic: Proffering Complete Range of Cardiology Services Under One Roof at Highly Subsidized Rate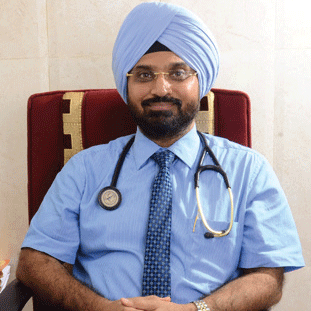 Nearly eight newborns out of thousand live births observe one or other form of cardiac defects, starting from minor to very complex ones, in India. Unlike western countries, there are not many keen hospitals in India that take-up cases of pediatric cardiology due to scarcity of optimum surgical facility, pediatric cardiac catheterization services, pediatric intensive care and echocardiography. This largely prevents pediatricians to venture in this fraternity. On the other hand, cardiologists are more interested in looking after adults, and hesitate to adopt pediatric cardiology as they don't have enough background training & experience in neonatology and pediatric.
Standing in the sharp contract is Dr. Harminder Singh (Founder, Medways Cardiac Clinic), an interventional cardiologist, who has successfully performed over 300 procedures in the pediatric segment. No wonder, his proprietary clinic offers end-to-end cardiology services, including
pediatric (ASD, VSD and PDA closure) and adult cardiology (invasive & non-invasive), electro physiology and peripheral vascular interventions under one roof. "I have served Indian army under various clinical roles for more than 25 years, which motivated me to work ethically, selflessly, high volumes, and provide state-of-the-art treatment at subsidized cost to patients. Same ethos has been imbibed in my present clinic," adds Dr. Harminder.

"Always willing to offer exclusive cardiology procedures, Medways takes fewer patients and spends more time to address all their queries while educating them about their disease"

In its mission to provide cost-effective healthcare, the clinic runs a free-charitable clinic attached to a local Gurudwara, providing free consultation, and those needing advanced investigations are brought to Medways for highly subsidized treatment. Like most advanced cardiac centers, Medways also offers angiography, angioplasty, rotablation, FFR, IVUS and primary angioplasty facilities through its associated hospitals like Bhakti Vedanta Hospital. But there is more to it.

Serving Needy
At Medways Cardiac Clinic, no appointments are required for the non-invasive procedures. All procedures are executed on the same day and simultaneously, reports are handed over and treatments are initiated, which not



only prevent patients from visiting clinic repeatedly, but also save their valuable time. Always willing to offer exclusive cardiology procedures, the clinic takes fewer patients and spends more time to address all their queries while educating them about their disease. Furthermore, the centre caters mandatory dietician consultation wherein patients are instructed on their eating habit essential to treat & prevent heart disease. At its in-house pharmacy, patients can procure drugs & medical appliances at highly subsidized and concessional rates. This Mumbai-based clinic implements the amalgam of well-structured and approved ethical practices along with patient-centric & advanced treatment policies to accomplish all the needs of cardiac patients.

Unlike others, this 2014-founded clinic doesn't indulge in fixed treatment packages system and thus performs & charges only for necessary investigations required for patient's health conditions. "My opinion is not to have any packages. Over investigations of the patient by means of fixed costly packages as done by most hospitals is neither recommended nor in favor of their treatment," asserts Dr. Harminder. With rewarding growth of 3x since inception, Medways Cardiac Clinic's current focus is to boost the reach of affordable cardiology services across the country, while implementing more recent and high-grade technologies & tools.