Kare4U Healthcare Solutions: Empowering Doctors to Achieve Fruitful Results by Enabling Quick Treatment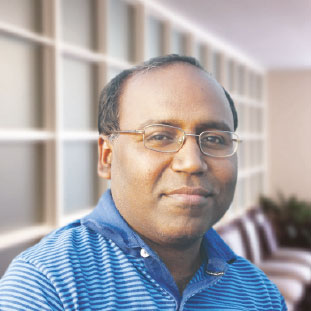 Brahma Acharya, Director
It's no secret that patients who receive quick treatment have better outcomes than those who have to wait a long time. Wait times can cause serious consequences-transforming potentially reversible illnesses into chronic, irreversible conditions, or even permanent disabilities; particularly when it comes to acute diseases like heart disease and asthma attack, every second is critical to a patient's survival. Tragically, the lengthy queues and long waiting time have become a defining characteristic of Indian Healthcare system. Addressing this issue in a very systematic manner, Kare4U Healthcare Solutions, a Bhubaneswar -based company with a stark objective of improving OPD experience, offers analytics-driven appointment management system based on statistical modeling that helps the patients and doctors in reducing the waiting time by 85 percent.
Modernizing OPD Service
Leveraging analytics and data science, the company's intelligent appointment management system enables customers to predict waiting time for the day they are planning to consult the doctor. Yet
another salient feature of Kare4U is the enormous flexibility it offers to doctors, wherein if the doctor is unable to come on time due to unforeseen circumstances, the automated system will readjust the entire schedule and reallocate the slots to the patients along with notifying them about the same in just ten milliseconds. This whole process gives a seamless experience to both patients and the doctors.

"Developed in consultation with proficient doctors and medical institutes, Kare4U's OPD solution helps patients in consulting a doctor who is specialized in the field of their concern"

Developed in consultation with proficient doctors and medical institutes, Kare4U's OPD solution helps patients in consulting a doctor who is specialized in the field of their concern. The strength of this OPD solution lies in providing hassle-free medical care through its mobile app, which notifies patients about developments of their whole treatment cycle, enables them to share their health-records and also facilitates remote consultation.

This cloud-based API driven appointment management system brings all the different channels(Doctor, patient, receptionist & the hospital)under one roof and offers them a single unified vision of the appointment schedules of the doctor on their mobile app. This gives patients a real-time view of affairs and also facilities doctors & hospitals in managing the patients.
Kare4U's HTTPs-enabled multiple tenant application ensures data safety and enhances auditing & logging experience of customers. While accessing the database that caches data, every single request is filtered ensuring that only authorized person gets access to the data. The system also keeps records of all logins along with their location that enables the company to block any illegal entry from diverse locations at the same time.

Prepared For Future
An emerging healthcare solution provider and HIPAA compliant company, Kare4U provides its services to all healthcare entities-hospitals, doctors, clinics, diagnostic centers, pharmacy companies and more importantly, patients. Having developed a full-fledged next-generation HMIS which is completely driven on microservices architecture and heavily leverages artificial intelligence & machine learning, Kare4U aims to become one of the leading healthcare providers in the next three years. By leveraging the par of latest designing& architecture technologies with heavily focusing on mobility and analytics, the company is setting itself ready for the upcoming healthcare challenges." If any hospital or clinic asks us for any solutions, we would be able to provide them in a short period of time regardless of the complexity of the problem," concludes Brahma Acharya, Director, Kare4U Healthcare Solutions.