Final Therapy Clinic: A Hybrid Therapy Amalgamating East & West to Alleviate Psychological Problems & Promote Mental Well-being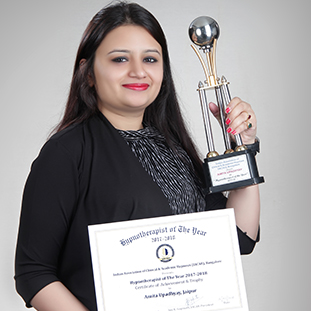 Bringing this injustice to a halt over a Skype interaction is the Pain Elimination Therapy of the Final Therapy Clinic(FTC), a Jaipur-based full service psychology clinic that specializes in India-centric issues. The clinic's national award-winning Therapist, Dr. Amita Shringi Upadhyay, stands out even amongst the very few approved Hypnotherapists in India who can be counted on the fingers of one hand, in a sector strife with malpractices, wherein most don't bother to go into the actual hypnotic science. Once the clinic gets the medical clearance from the patient's family practitioner, Dr. Amita puts her patients through trance, analyses the psychopathology of the pain and its level. Then the subconscious mind is programmed to understand that the pain signals emitted by the patient's brain are no longer helpful to them. She teaches the patients to dial the pain down & maintain it at a bearable phase or even turn it off completely.
However, FTC doesn't get high marks on just hypnotherapy alone. The clinic not only has such nationally-trained Hypnotherapists and internationally-trained Psychiatrists & Psychologists based out of America working exclusively for the clinic, but also maintains a whole network of eminent experts including top American neuro-psychiatrists, the best hypnotherapist in London, highly decorated medical doctors who are the winners of Golden Stethoscope Award – working on behalf of the clinic. The fact that they all work in harmony with a multidisciplinary team approach to treat any kind of psychiatric & psychological disorders, the patients approach them with, has made FTC a well sought-after clinic. "Our Final Therapy has been the TERMINUS for many patients who had been wandering from one psychiatrist to another for decades, wasting their lives in depression, anxiety, and not living joyously and to the fullest. After our therapy is delivered, a great transformation occurs in the patient and one need not any longer search around for a solution," remarks Nitin Upadhyay, Clinic Director, Final Therapy Clinic.
Considering that the clinic's psychiatrists including Dr. Anupama Upadhyay (Neuro-psychiatrist), Dr. Nita Kumar (Therapy Designer), and Dr. Sushil Upadhyay (Medical Psychiatrist) are proficient enough to deliver best practices & latest therapies in their respective fields on the internet platform through peer-to-peer video conferencing (Skype, FaceTime, Zoom and so forth), FTC has not only implanted its roots well in North India, but also has spread its therapies worldwide. The clinic's western-inspired infrastructure also includes a 12-bedded inpatient facility that's designed to handle patients' needs in a five-star hospital.
One-of-a-kind Proprietary Protocols
Psychiatrists (medical doctors performing medication management) and psychologists (offer psychotherapy with behavioural intervention) in India keep their patients to themselves, instead of referring to each other in times of need. But to create a great transformation in patient, a clinic must attack the problem with a two-pronged solution where psychiatrist & psychologist work in tandem. FTC has poised itself as one such rare gem, which also brings forth its own set of therapies & protocols by perfectly blending the best methodologies of all successful therapies under single roof in its proprietary product– Final Therapy, which justifying its name, serves as the final stop for all of its patients' mental well-being& fortitude.
Hypnotic IQ - Enhancing Learning Capabilities
The American, British & Indian Medical Association have all declared Hypnotherapy as a safe and effective well-being therapy. They consider it as a powerful mode of treatment for psychosomatic ailments when combined with Cognitive Behavior Therapy, which works tenfold faster than any other counseling or therapy. FTP tops the charts amidst the handful of hypnotherapy clinics that can deliver results. Furthermore, professionals even today rely on western theories and treat patients with barely any socio-cultural relevance. To demonstrate, enhancing their children's learning capability is a priority for almost all Indian parents, but many therapists go deep into this area like FTC does.
FTC's Final Therapy Has Been The Terminus For Many Patients Who Had Been Wandering From One Psychiatrist To Another For Decades, Wasting Their Lives In Depression, Anxiety, And Not Living Joyously
While there are some students with average IQ who perform outstandingly by the virtue of devoting more time to academics, there are some with outstanding IQ who are unable to bank on it in crunch times or exams due to the lack of proper test taking skills (academic tension, exam anxiety, inability to recall and so forth). Albeit FTC's proprietary protocol Hypnotic IQ Therapy can ameliorate the capabilities of every type of student regardless one's IQ, it is the latter kind that derives the maximum benefit out of this therapy. The clinic gets countless students gunning for AIIMS & IIT, most of whom are very intelligent and truly endeavor to deal with their situations (lack of concentration, love-related issues and so on)– things they can't afford to have during their strictly highly regimented curriculum.
Encompassing all these problems very definitively and comprehensively for a prospective student, Hypnotic IQ therapy puts them under a somnambulistic trance, thereby accessing a higher resource state from their consciousness and programs their subconscious mind to increase their already existing IQ. This clearly enhances their ability to retain & recall the information that they've already studied and decreases their academic tension. "We access a greater part of their mind and help them use both hemispheres to learn and retain information, which reflects greatly in their performances in exams," elucidates Nitin.
The Perfect Golf Swing
Its proprietary Perfect Golf Swing Therapy lines up a golfer's consciousness in for achieving a perfect swing under hypnotic trance, either through a one-on-one session or over internet. While the game's athletic aspects like swinging technique cannot be altered, FTC's therapy transforms the thought process involved in executing the perfect swing. "The perfect swing does require technique. But, when the golfer's subconscious mind is programmed to execute the perfect swing, it greatly enhances one's ability to execute it," explains Nitin. The clinic also teaches a meditation called Hypnotic Golfing that would enable people to experience the joy of golfing anywhere anytime.
Deep Meditation Experience
Hailing from a family of psychiatrists, Nitin was exposed at an early age to the realm of the mind and was always intrigued by human mind's transformative aspects. When he got the opportunity to pursue his passion in education, he delved deep into various theories on mind and became well-versed with the art of formulating various temporary & permanent therapies to heal psychosomatic disorders. His migration to India further strengthened his thirst for exploring various avenues of psychology. So he studied Yoga in great detail and was quite astonished when he discovered that all the psychology research from the likes of Harvard & Stanford proved that the techniques of Yoga Sutras are truthful. This discovery propelled Nitin to amalgamate the nuances of western psychology with the secret mystical yogic sciences to transform the hybrid therapy into a practicality. "This was bound to happen sometimes in the treatment industry, but we happened to have just jumped on it earlier than later," remarks Nitin.
While western psychologists stress on fixing the mind, eastern philosophy preaches to turn it off and attain the state of no mind, where one will be biologically, mentally & emotionally sound. Eastern psychology taught Nitin
what Gautama Buddha called as 'state of bliss', and other yogis called as Moksha & Nirvana or as western psychologists term it as self-actualization or enlightenment, is no longer a secret or an unattainable illusive state. FTC strongly believes that akin to breathing, enlightenment is also a gift that is programmed into one's DNA. It's human birth right to attain this enlightenment – whether one is a CEO of a large technology company, a labourer or anything in between – one need not to endure centuries of toil to achieve it; it can happen within a snap of fingers and one will be able to capture it.

By guiding its clients through a somnambulistic trance, FTC's proprietary Deep Meditation Experience Therapy/Final Transfer Protocol (FTP)communicates with the practitioner's subconscious mind to implant the seeds of enlightenment, transforming & illuminating their minds to experience enlightenment. "When you come out of trance, and carry on with your usual life, the practitioner comes to a realization that the subconscious mind propagates the truth of enlightenment that has been implanted into your subconscious mind to the fleeting conscious mind. Quite literally, you can have your Eureka moment – a coincident of enlightenment, when you're merely just out walking," explains Nitin.

Ascertaining Mental Well-being
Addiction therapy being his forte, Nitin treats patients wrestling with any kind of addiction, be it heroin, cocaine, smack, marijuana, nicotine, alcohol and prescription drugs, or addiction to food, which most people wrestle with. Rather than using food as sustenance, some people use food as a drug to control their mood and self-medicate.

When they end up gaining weight, they misinterpret that they have a weight problem, while their real problem lies in their relationship with food. When a brain is addicted to some thing, it releases neurotransmitters waiting for you to deliver nicotine, heroin, alcohol or any drug of choice. Once that neurotransmitter gets that drug, it will release dopamine. "When you reach the state of no mind, all the neurotransmitters that makes a person feel healthy just from simply eating and drinking, will be in right balance and hence their addiction is gone in an instant," adds Nitin.

FTC adeptly conducts corporate events, training, stress & anxiety relief programs, group hypnosis, group relaxation techniques and pretty much anything that ameliorates the corporate group's consciousnesses. Similarly, with the commercialization of marriage, the clinic has been experiencing a considerable increase in premarital counseling (ensures whether they're the right match for each other) and wedding counseling (helps enjoy the wedding day without stress), besides post marital counseling.

Nowadays depression is a word that gets thrown around a lot. Consequently, a person with a vitamin deficiency is quite often misdiagnosed /self-diagnosed as depressed. Hence, when FTC receives a patient for depression, it meticulously diagnoses them to ensure whether they have clinical depression and refers them to a psychiatrist who tries different anti-depressants. If it fails, the patient is sent to a neuro-psychiatrist who performs higher level pathological therapies.

Having established tie-ups all the way up to the Mayo Clinic in America, FTC is also deploying its therapies via the internet for international clients, who seem to be benefiting more from these therapies than the domestic market. Giving us a taste of his therapy, Nitin divulges a piece of meditation practice that will get anyone started on the path of enlightenment. Drop whatever you're doing, sit, close your eyes and watch as your breathing becomes deeper and deeper for 30 seconds. Now you will notice a sense of calm and peace taking over your whole being, as you're just locked into a transformative & truthful state. Akin to rebooting a computer, by performing this instant practice, you will feel a difference in your energy level, flushing out the dullness. With this gift that can be redeemed at anytime, Nitin wraps up the session with the fulfilment that this article will come into fruition.

Key Management:
Dr. Nitin Upadhyay, Clinic Director
Kindly add a short bio of Dr. Nitin in around 50 words.

Dr.Amita Shringi Upadhyay, Hypnotherapist
Dr. Amita is a national award winning professional who is blessed with a magical gift for treating patients.

Headquarter: Jaipur
Awards: Hypnotherapist of the Year by Indian Association of Clinical & Academic Hypnosis