Thinktel Solutions: Proffering Genuinely Customer-Centric Services Via Proficient Manpower Base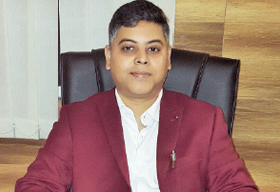 This indeed is possible only because of a strong rapport between its 800+ cohesive em¬ployees and a sense of ownership bestowed on them to reach the client's expectation levels, which bespeaks Thinktel's impressively lesser attrition rates. "Since its establishment in 2009, me and my colleague Souvik Biswas (Director& CIO) have been focusing on our Thinktel family's organic growth & happiness and dedicate this success to our team of think tanks with hybrid knowledge," remarks Kaushik Biswas, MD & CEO, Thinktel.
Bespoke Services
Through a blend of inbound and outbound communication and omni-channel support, Thinktel engages in rendering customer services to various telecom companies, banks/financial services, non-profit organizations, insurance, utilities, and many more via e-Support, Debt Managing processes, Risk & Credit processes, TeleMarketing & Services, Payroll Management and Donor Acquisition programs. Thinktel's well trained field force covers the purchase, logistics, installation and maintenance of POS machines, trains the merchants and scrutinizes complaint & service calls via its contact centre (adheres to TRAI
regulatory)on realtime basis. The well groomed Contact Center & Backend team is all out in customer communications and management.
Deploying specially designed software that ensures to provide full text and character level validation, it also proffers data entry services eliminating multiple proofing cycles. Moreover, comprehending the burgeoning political and social scenarios in India, Thinktel partners with NGOs in fundraising by acquiring, retaining and upgrading their donor base, renders long term support via its contact centre and arranges fundraising events via its field force and outreach activity.
Deploying specially designed software that ensures to provide full text and character-level validation, Thinktel proffers data entry services, eliminating multiple proofing cycles
Hybrid Think Tanks
To deliver these services efficiently apace with emerging technologies, Thinktel's inhouse team has deployed Dialer systems, DBMS support and other technologies for call recording & monitoring systems and QC. Besides, its IT team ensures that the firm's employees understand, manage, respect and adhere to clients' security policies that entail restricted data access and prevents sharing it to third parties. Thinktel ascertains that the in-house certified team conducts training programs on all the latest developments in business processes and its team of experts from diverse streams get trained and certified by the clients to procure a complete insight on their products and process.
Growing its revenue at a 15-20 percent rate YOY organically with fixed performance-based revenue model, Thinktel aims to launch a mobile app to integrate its services and make its brimful of features readily available. Spread across 13 states of India, it is on the verge of starting its base in UAE by 2018 and envisages to extending its offices across Europe, America and the tier 2&3 cities of India.
Kaushik Biswas, MD&CEO
As a dynamic entrepreneur with diversified endeavours and high adaptability to changes, Kaushik uses his finance skills and business acumen to provide commendable leadership.
Souvik Biswas, Director&CIO
With a profound expertise in IT, Souvik has contributed to set up Thinktel's technical infrastructure and uses his skills to render strategic solutions to customers.
Offerings:
• Contact Centre & Solutions
• Data Entry
• Payroll Management
• Field Support-Services & Management
• Fundraising for NGOs
Offices:
Kolkatta,Pune,Mumbai,Bangalore,Chennai & Hyderabad and across all of East India