medONE: Providing Technology-enabled Applications for Collecting & Managing Clinical Trial Data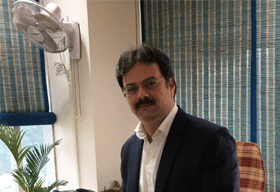 medONE has deep domain expertise in convergence of clinical data and IT and in-house capabilities to design and develop highly scalable EDC platform's, targeting paper/web-based studies. "Our latest offering DATAONE has highly scalable, software-as-a-service (SaaS) web-based architecture which provides a cost effective approach to quickly implement a small single center or large multi-centered research studies. Our technology solution is designed for paperless operations and provides accurate real-time data collection, standardization, aggregation, and reporting, to maximize the performance and cost effectiveness of clinical study" asserts Sandeep
Uniqueness
DATAONE is 21CRF part 11 compliant CDM systems. Its customizable interface support data entry at the site by site
personnel. Its source data verification tool allows site to upload trial documents (patients' prescriptions/source documents/lab reports/X-ray/radiology) directly to patients' record at visit level, there by speeding patient enrollment process with real-time medical and remote monitoring of study. Its inbuilt online query management system (paperless) has unique query on click concept, which does away with need for manually filling query form; in addition to real-time query tracking, current status notification, and downloadable query log, with provision of generating PDF file of query for documentation purposes.
medONE has deep domain expertise in convergence of clinical data and IT and in-house capabilities to design and develop highly scalable EDC platform's, targeting paper/web-based studies
Suitable for late phase & Post Marketing surveillance studies, system can be configured to handle simplest to the complex study requirements. Its fully customizable role-based four level hierarchy authentication process ensures that only the qualified and authorized person carry out any given transaction. DATAONE even delivers real-time update of patient registration and progress, documentation of patients' data and records, real-time study statistics (graphical trends for important study variables), real time reporting of efficacy and safety issues, real time data access, and document sharing capabilities. "These tools give Sponsor/Admin full control of study and can significantly reduce time to data cleaning and database locking; resulting in considerable savings of time and resources" points Mr. Chander Prakash, IT-Lead of company.
Initially designed for simplifying data management process, the platform includes unique multilingual messaging system for the study medication & follow-up visit compliance. The system sends personalized timely drug and follow-up visit reminders & alerts (SMS) to help patients' during course of clinical study, enabling site and sponsor to focus on drug development process. Moreover, the system is proven as an effective medium for sending motivational or educational messages and keeping patient engaged in clinical trials, hence reducing patient drop-out rate.
Quality control and quality assurance are integral to medONE systems, company adheres to rule governed by FDA 21CRF part 11 for electronic signature & electronic data capture system. Since its inception, medONE upholds significant experience of working across 20 therapeutic areas and privilege of engaging with the industry leaders like Eli Lilly, Abbott, Merck, Novartis, and many more.
medONE envisions developing electronic health record (EHR) system to integrate within the EHR system a robust clinical trial tool, which will fulfill all regulatory requirements by ensuring the validity, reliability, and integrity of the data. "A platform that can conduct clinical trial itself and not disturb doctor's routine processes is in pipeline. It will encompass a clinical result data, thus facilitate them in managing their clinic along with generating data. We plan to undertake pilot test and gap analysis study to understand the degree of disparity and data issues." concludes Sandeep.